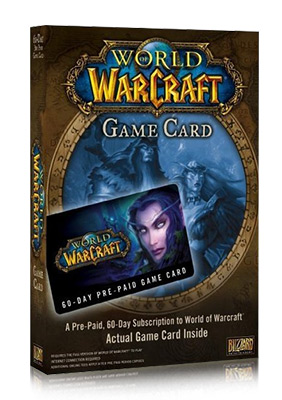 Carte Prépayée WoW 60 jours EU
Editeur:

Blizzard
Date de Sortie:

09 Février 2005
Description:

Carte d'Abonnement WoW 60 jours pour le jeu World Of Warcraft(La version originale du jeu est requise). Pour les serveurs européans uniquements.
Montant:

27.26 USD 30.67 USD
Les joueurs ont également acheté
| | |
| --- | --- |
| Date de Sortie: | 09 Février 2005 |
| Editeur: | Blizzard |
Joueurs de World of Warcraft! Votre abonnement est touche à sa fin, mais vous ne pouvez vous résoudre à arrêter votre voyage épique dans Azeroth? Avec la Carte Prépayée WOW 60 Jours, vous pouvez renouveler votre compte en y ajoutant 60 jours.D'ailleurs, cette carte peut être utilisée sur tout compte, du moment que vous jouez avec la version complète de World of Warcraft, vous pouvez donc même l'offrir si vous le souhaitez.
Veuillez noter que cette carte ne peut être utilisée que pour la version Europe, les cartes étant spécifiquement régionales. Si vous jouez sur les serveurs américains, veuillez acheter la Carte Prépayée WOW 60 Jours.
Pourquoi acheter la Carte Prépayée WOW 60 Jours chez IGVault ?
Chez IGVault, nous nous engageons à vous fournir les meilleurs services pour vos jeux en ligne.Vous offrir la Carte Prépayée WOW 60 Jours à des prix très bon marché est donc parfaitement en adéquation avec notre mission de vous satisfaire.Afin de nous assurer que nous ne soyons jamais en rupture de stock pour un de nos produits, notre inventaire est étroitement surveillé. Et parce que nous voulons que vous ayez toujours une grande expérience d'achat sur notre site, nous vérifions constamment à ce que nos paiements soient sécurisés et que les renseignements personnels que vous nous divulguez soient également 100% protégés.
Comment recevoir la Carte Prépayée WOW 60 Jours ?
Pendant le processus de commande, nous allons vous demander de nous donner une adresse e-mail que nous utiliserons pour vous envoyer la Carte Prépayée WOW 60 Jours en moins de 5 Minutes.Notre équipe est à votre disposition pour toute question que vous pourriez avoir. N'hésitez donc pas à acheter dès maintenant la Carte Prépayée WOW 60 Jours !